About Jacob Silverstone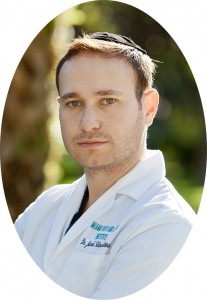 Jacob M Silverstone, D.P.M is a forefoot, rear-foot and ankle reconstruction surgeon who has accomplished outstanding training under some of the northeast's top foot and ankle surgeons. Dr. Silverstone completed an extensive 3 years surgical residency and has gained exposure and experience to sports medicine, trauma, elective surgery and reconstructive surgery.
Born in Mexico, Dr Silverstone's family emigrated to New York. Dr. Silverstone received his Bachelor of Arts from Hunter College in New York City in 2004 and continued his education in podiatric medicine at The New York College of Podiatric Medicine where he graduated amongst the top of his class. Dr Silverstone then completed his surgical residency at North Shore-LIJ Hofstra School of Medicine in Long Island, NY under the auspices of some of the top podiatric and orthopedic foot and ankle surgeons. Additionally, as a resident, Dr. Silverstone worked alongside Fordham University's team podiatric physician treating its athletes.
Our Expertise
Dr. Silverstone has achieved multiple honors and awards while at podiatric medical school and has scored amongst the highest in the nation in his board qualification exam. He is fluent in both English and Spanish and is proficient in Hebrew.
Dr. Silverstone has a special interest in cosmetic restoration, sports medicine, pain management, rehabilitation and functional reconstructive surgery, and continues his passion in pursuit for integrative medicine for the active patient.
Dr. Silverstone currently lives in Miami Beach with his wife and five children.